Renown Advanced Wound Care provides specialized treatment for wound healing, ostomy care and foot and nail care. Our team of certified nurses and physicians is uniquely qualified, experienced and dedicated to providing care for severe and chronic wounds.
We Specialize in Wounds Caused by:
Diabetes (neuropathy)
Vascular diseases (blood vessel diseases)
Radiation therapy (from cancer treatment)
Trauma
Burns
Pressure ulcers
Our Wound Care Treatments Include:
Negative pressure therapy, where controlled pressure is applied to draw out fluid
Biological skin substitutes, where cell therapy is used to "jumpstart" a stalled wound
Pulsatile irrigation, where water is delivered at high pressure to clean wounds
Offloading techniques, such as padding or dressing to take pressure off a wounded area
Surgical debridement, where dead or damaged tissue is medically removed
Diabetic Foot Care
We specialize in diabetic foot care and education to help patients and their families adjust to a healthy and active lifestyle. Services include:
Nail care
Diabetic foot wound care
Comprehensive foot assessment to identify risks for skin breakdown
Assistance with shoe inserts
Education and tips to care for feet
Ostomy Care
We are the only location in the region to offer complete ostomy services, including education for patients with ostomies and fistulas.
To improve quality of life for ostomy patients, our team offers assistance with the following:
Pre-surgical markings
Selection and fitting of medical bags for fecal containment
Prevention and treatment of skin problems related to having an ostomy
Purchase of medical supplies
Supportive care coordination
Post-surgery ostomy care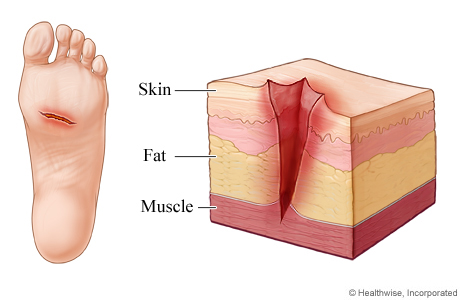 Cuts are open wounds through the skin. Normally the skin is under slight, constant tension as it covers the body. A cut is a forceful injury to the skin.
Wound check: Overview
People have wounds that need care for many reasons. You may have a cut that needs care after surgery. You may have a cut, scrape, or puncture wound from an accident. Or you may have a wound because of a condition like diabetes.
Whatever the cause of your wound, there are things you can do to care for it at home.
Your doctor may also want you to come back for a wound check. The wound check lets the doctor know how your wound is healing and if you need more treatment.
Related News
Managing weight is a complicated and often difficult journey for many individuals, and obesity stands as a common and serious chronic health condition. In fact, the Center for Disease Control and Prevention reports that the prevalence of...
According to the Global Sepsis Alliance , 1 in 5 deaths worldwide are associated with sepsis. If not recognized early and treated promptly, sepsis is the final common pathway to death from most infectious diseases worldwide, including...
Your heart is the muscle in charge of pumping blood to your entire body. This vital organ is made up of chambers, valves and blood vessels. Your heart valves work similarly to a one-way door: they open and close, controlling blood flow in...